When I heard about Make and Mend 2011, I wanted to participate and luckily, I had just the thing--an outfit of Gracie's we bought second hand last year, thinking she'd grow into it and knowing we'd probably need to tweak it. Exhibit A. This is a 3T, that's too wide and too short, both. Thing is, from the capris, which are perfect (3T pants are usually too big) I'd say that it runs small, except for the fact that the top is both too wide and too short. And we hated the shoulder strings. (They were tucked inside when we bought it for $1.50.)
So, my first order of business was to do a bit of seam ripping. Bye, bye weird shoulder strings! Too trailor-parkish for us. :D Next, I took the shirt in to make it fit better. It is after all, shirred with elastic thread, so baggy wasn't going to work.
Then, I undid some of the side seam so that we could add some lace to make it longer. At 3, a lace ruffle on the bottom isn't a bad thing, and since it already had a ruffle, we're just going to exaggerate it a little!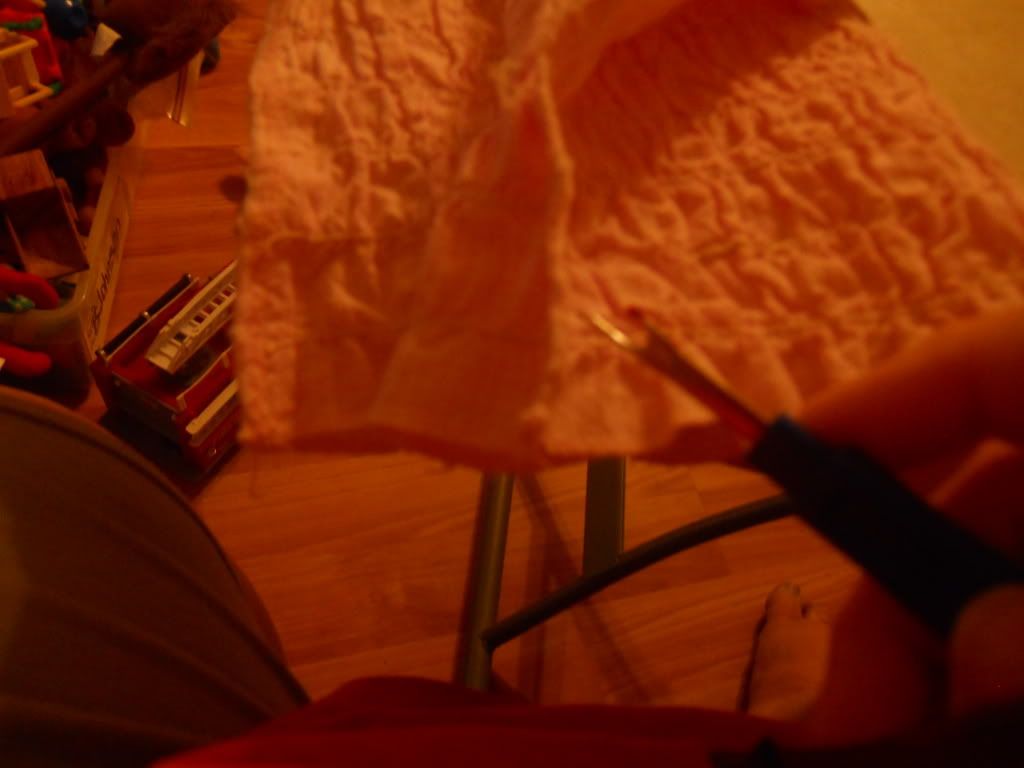 I tend to buy lace in bulk. Even with shipping, I save money that way since even eyelet can cost you more than fabric yardage in the chain stores. Ebay is a favorite source for lace since I can get it for around $1 a yard there. Needless to say, I have a lot of lace stashed away for just such an occasion. Marissa, over on
A New Dress A Day
, convinced me that RIT was useful to have on hand, too. And I didn't want white lace here, so out comes Petal Pink dye to take care of my lace. And lucky for me, I had lace that was a decent match for the lace already on the capris.
And since it was
her
"new" outfit, Gracie insisted on getting into a picture--
After it was dyed and dry, I trimmed the lace to the width I wanted, (this is where getting really, really, really wide lace from the stash is useful.)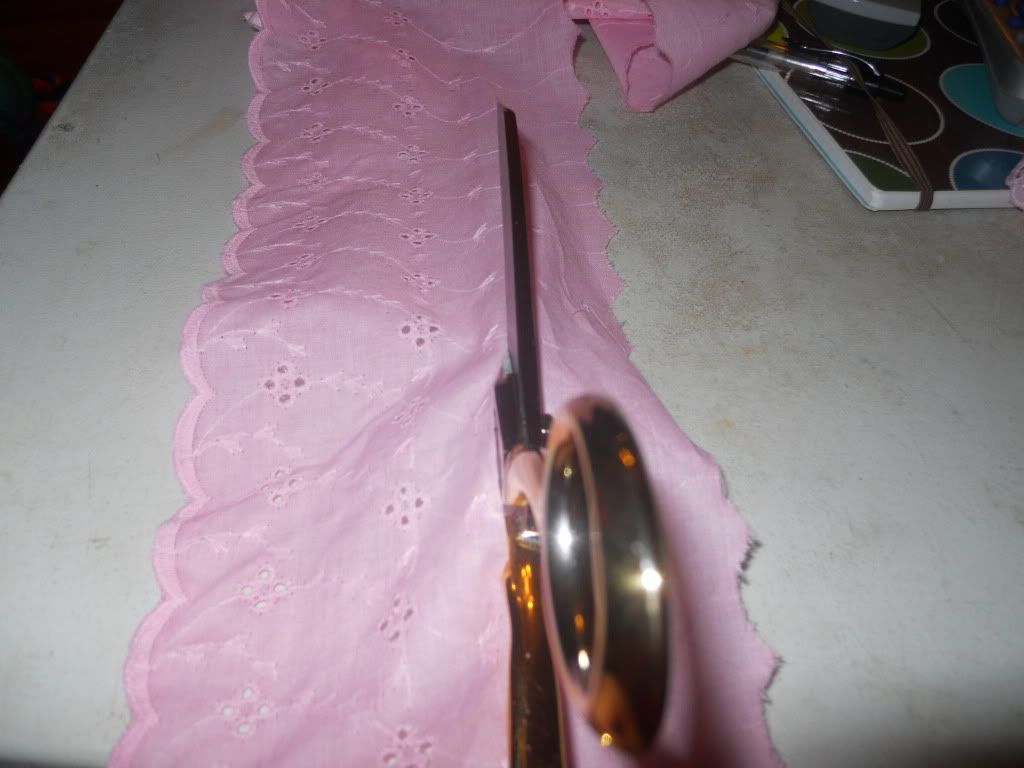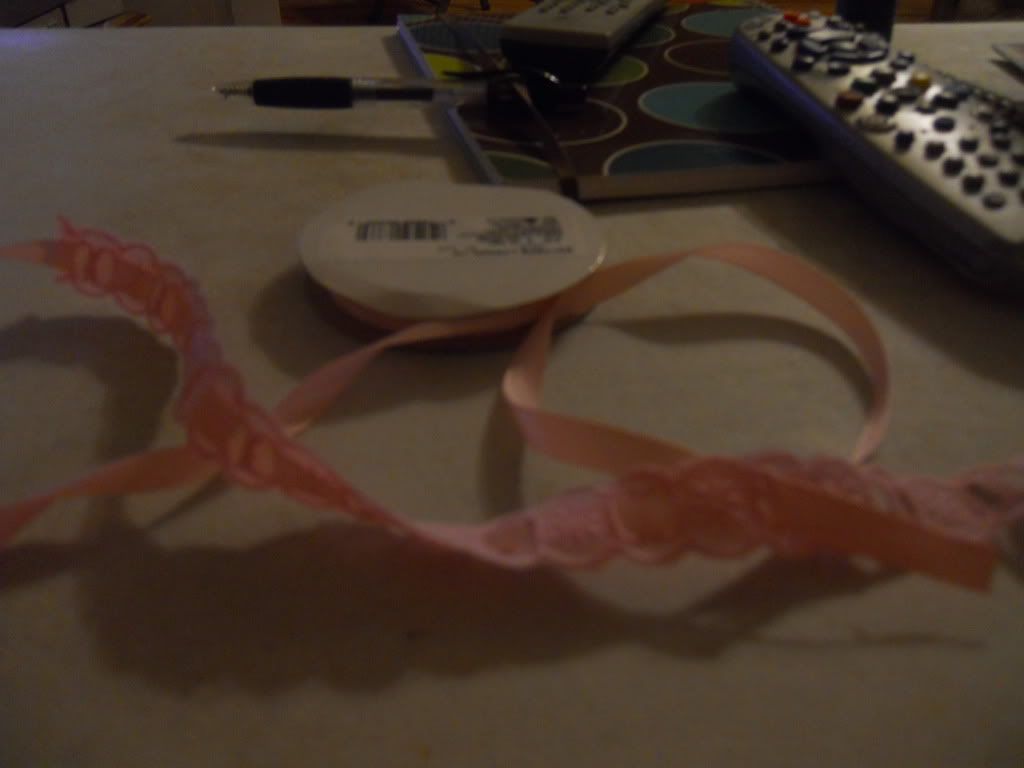 threaded pink ribbon through the beading lace, (I have a large ribbon collection from sewing for the Bit)
and started sewing. Rather than overlock, I sewed wrong sides together--and then sewed the beading lace over the raw edges. Then I sewed up that side seam and overlocked the raw edges.
Next, came the shoulders. If Gracie weren't three, I probably would have left them alone. But she
is
three. And as anyone who takes care of a toddler will tell you, if it's easy to take off, you're going to have a naked kid on your hands in about three seconds flat. So, taking some of the leftover lace, I sewed shoulder caps in place so that she can't just pull the shirt off by pulling it down. I tucked the raw edges underneath and sewed them in place so that it wouldn't fall apart. I had some leftover ribbon, so I tied it in bows, sealed the ends, and hand sewed them in place on the shirt. Now, the capris had one problem--one of the appliques had come loose on one side. So I turned my sewing machine to buttonhole and zig-zagged over the raw edge with pink thread.
Voila! Two days later, when my model returned--
If I'd had just a little more ribbon, I would have added bows to where the new shoulders meet the shirt, but I ran out, and actually
buying
some was out for this project!
And to think, it only sat around a month this time waiting for me to fix it! I'm much faster at making clothes than I am fixing pre-existing ones! (In my defense, I do have a distraction in the form of a brand new niece--Nikki--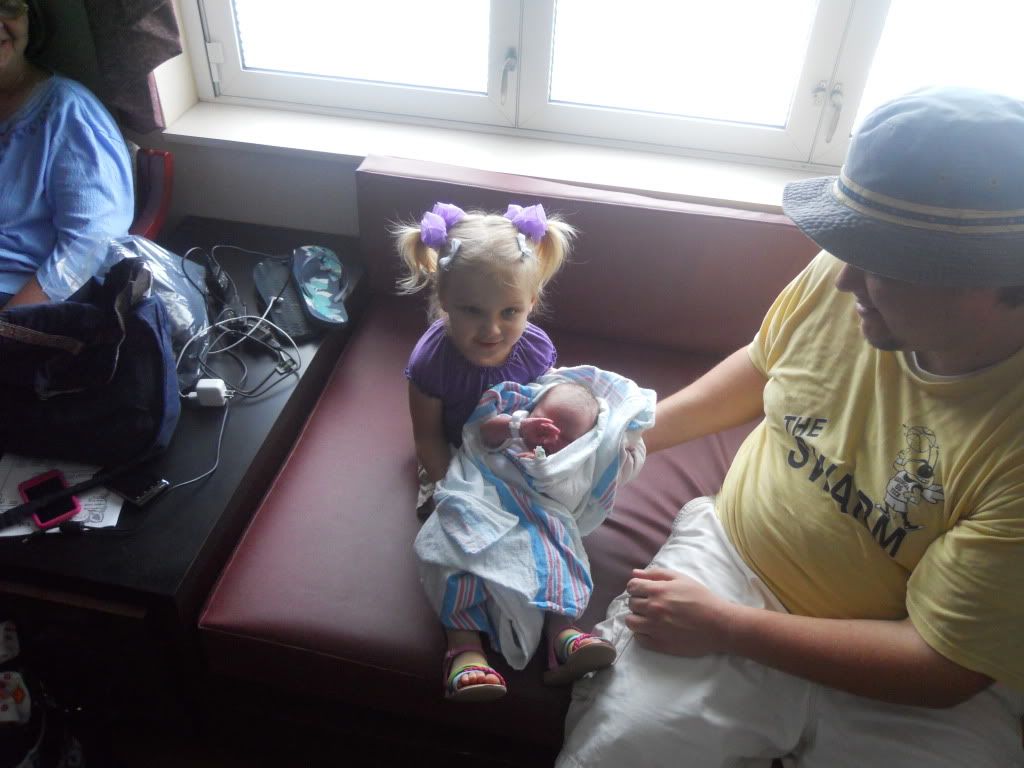 (Gracie, aka. Little Bit, Nikki, and my brother, Geoffrey)